Quote for the week:
Judge each day not by the harvest you reap but by the seeds you plant.
Robert Louis Stevenson
Today I'm delighted to be a part of the tour for the anthology FRIGHT BEFORE CHRISTMAS.
Fright Before Christmas Book Blurb:
It's the most wonderful time of year...or is it?



Christmas Eve is a night of mystery and magic, but not always in ways we expect. Things lurk in the shadows and they're not the least bit jolly or merry. Let's just say some presents are better left unopened.

'Tis the season to be screaming along with our thirteen tales of holiday horrors. Ghosts. Monsters. Demons. And more!



This Christmas, be careful what you wish for...
Pre-Order sale price of just $1.99 through November 29th.
Author Bio – Judith Graves:
Judith Graves loves tragic romance, werewolves, vampires, magic and all things a bit creepy. A firm believer that teen fiction can be action-packed, snarky and yet hit all the right emotional notes, Judith writes stories with attitude. She lives in northern Alberta and when she's not writing, she works in a school library.
FRIGHT BEFORE CHRISTMAS Review
13 tales of holiday horrors
Anthology by Shannon Delany and Kelly Hashway
Christmas, a time for Nativity Scenes, baby Jesus, Christmas trees, Santa, reindeer, gifts and magic and spells. Wait! Wait! Magic? Spells? What kind of Christmas are we talking about here?
The anthology FRIGHT BEFORE CHRISTMAS may be talking about Santa, but not the Santa one normally pictures. The reader may be looking at coal in a boy's stocking because he was naughty. Aw, Santa wouldn't do that, would he? Or is it even coal? And usually the snow men we read about in most books remind us of cute and friendly Frosty the Snow Man, right? Since when did snowmen start carrying weapons? Add a nutcracker that I dare not describe and other most unusual

characters, unusual to be found in a Christmas story, that is, and we have a book that may make us want to avoid Christmas this year, and maybe forever.
The authors in the anthology FRIGHT BEFORE CHRISTMAS, Lea Storry, Richard Ankers, Laura Pauling, Patrick Hueller, Jackie Horsfall, Boyd Reynolds, Ally Mathews, Jessica Bayliss, Judith Graves, Andrea Stanet, Dax Varely, Medeia Shariff, and Ty Drago have turned the Night Before Christmas into a Fright Before Christmas with characters that may give the reader nightmares. My suggestion is to read the stories with the lights on and preferably not alone. The stories are creative and imaginative and will give you chills. You also may want to read them over again. Happy reading.
I was provided with a copy of the anthology for my honest review.
Book Trailer Code:
Rafflecopter Code ($10 Amazon GC):
a Rafflecopter giveaway
Goodreads Giveaway Code: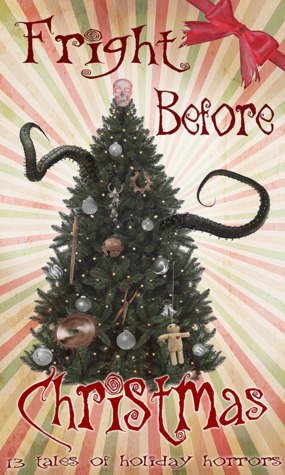 Enter Giveaway